The term dildo was first coined in around 1400 AD and originated from the Latin for 'dilatare', which means 'open wide', and 'delight'. Dildos have been found all over the world, made out of stone, ceramic, jade, gold and even dung. Some theories include that these were worshiped, used to keep orifices closed in the dead, or for fertility…. But we imagine plenty were simply erotic aids. Sex toys are nothing new and nothing to be ashamed of, they can be a great asset in your sex lift whether that's solo or with an entire orgy.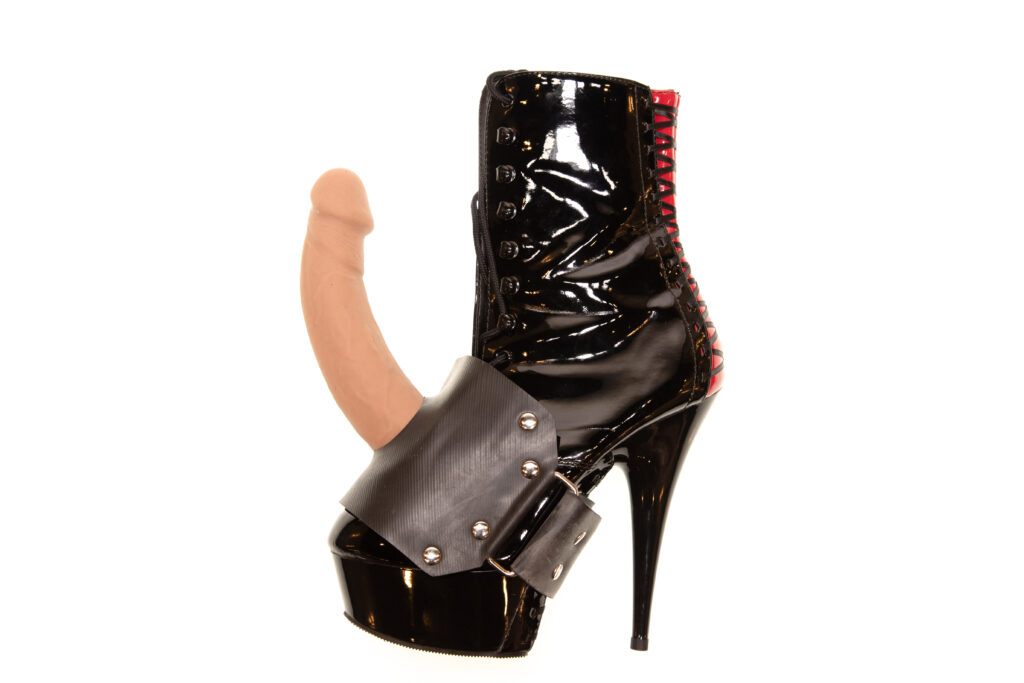 Sex Toy Myths
You will lose sensation

Maybe temporarily you will become desensitized however if you reduce stimulation you will go back to your prior level of sensitivity

You will become "loose"

Vaginas are elastic and naturally are designed to "snap back" from having a baby…there are almost no toys that size, you'll be okay.
Anuses however are less elastic, it is possible to cause long term issues from excessive stretching or rough penetration. Be gentle with your bum.

You can't use silicone lube with sex toys

Partially true – you can't use silicone lube with most soft plastics/rubbers, (TPE and "silicone blends"), however it is safe to use with with platinum silicone toys, glass, and metal.

You can't use oil as lube with sex toys

Mostly False. You can't use oil with toys that contain latex (gelly toys) or with latex condoms
Things to consider when buying toys
For Gspot and anal toys look for firm (metal, firm silicone etc)
For vaginal toys look for something softer
For harness toys look for something with a larger head and a inch or two longer than normal to help it 'stay in'
For cockrings look for something that attaches to the balls or has a counterweigh to keep the toy from shifting sideways
More modes isn't necessarily better, consider how many buttons it takes to get to your happy place.
The average vaginal canal is 3-6 inches in length, after about 7 inches you'll be bumping the cervix… do with this knowledge what you will.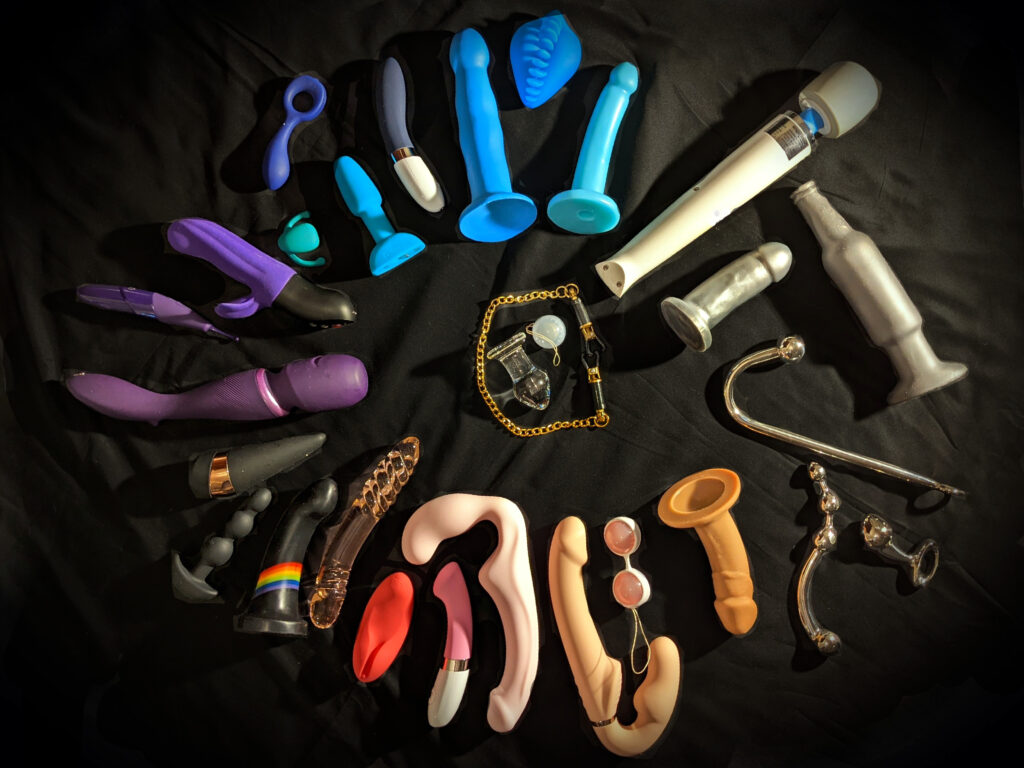 Toys that we consistently hear are 'earth shattering' are: the Magic wand rechargeable, hydromax pump and weVibe melt. (This is not a sponsored post this is purely personal opinion and experience)
Other brands we like are
Vibrators: JimmyJane, B-vibe, Magic Wand, Dame, We-Vibe
Dildos: Vixskin, Tantus, njoy, FunFactory, Squarepeg, Colours
Strokers: hydromax pump, hot octopus duo for stroker,
Harnesses: spareparts, joque
Lube: Sutil, sliquid
Toxic Toys
It's no surprise there's questionable products out there. But what you might not be aware of is there are Toxic Sex Toys.
Not all toys are not chemically stable and can leach out that oil. The end result is a synthetic oil in your vagina and Anus.
Look for Platinum silicone, a type of silicone that uses only platinum as a catalyser, and is used for medical and food grade silicone products.
Beware of Jelly, Cyberskin, Vinyl and PVC, TPE, TPR, Elastomer, TPR-silicone, SEBS, and silicone blends
Porous Toys
Not safe to share without condoms, can't boil or put in dishwasher
Rubber
Soft, sometimes contains questionable materials
Hard Plastic
Can crack with age, cheap
"Gelly" toys
Stretchy, good for strokers, very porous can't be shared. Silicone lubricants will deteriorate softer sex toys that may also contain silicone, jelly or CyberSkin, due to the way that silicone molecules react with other silicone products.
Wood toys Wood can be sealed, however is inherently porous, shouldn't be immersed in water or boiled..
Non Porous toys are Dishwasher Safe , can be boiled, and are safe to share with proper cleaning
Metal (Good for temperature play)
Glass (Need to store safely )
Silicone (Variety of textures)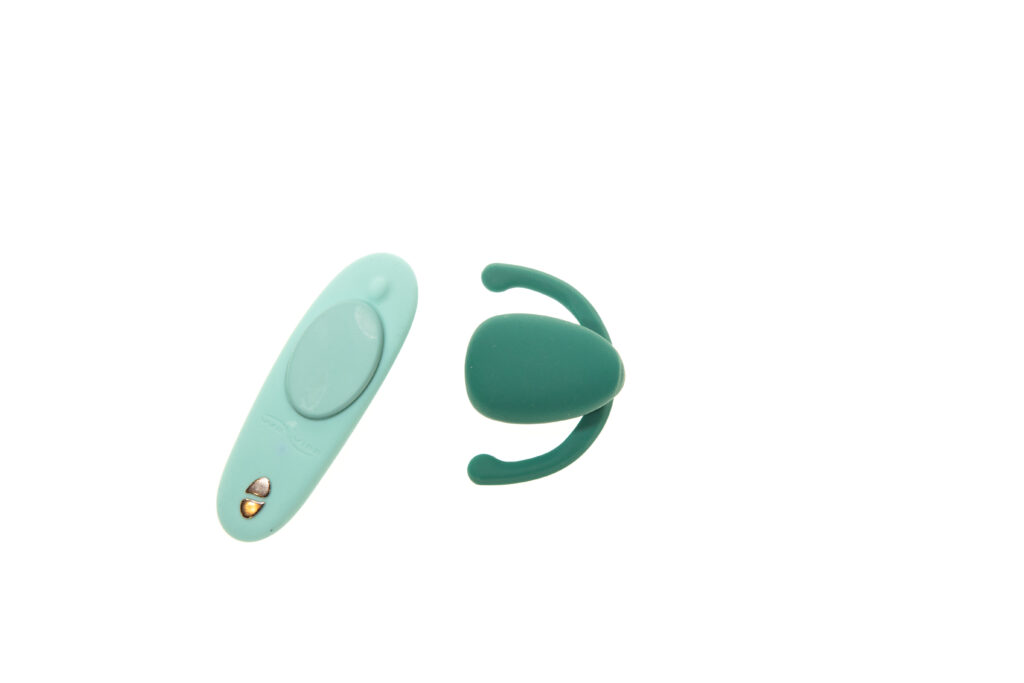 Clitoral Vibrators
sonic wands
Rabbits
Bullet vibes
Fingertip vibes
Suction
Air pulse
Hands free/remote control Vibrators
Panty vibrators (we like the Moxie by Wevibe)
Vulva huggers (Eva 2 by Dame, RockHer -designed for scissoring)
'Dual vibators' such as the WeVibe Sync, We-Vibe Jive and Lelo Tiani 3
Liberator and other sex pillows can make a wand hands free
The Magic Wand
While there are a variety of knock offs out there the rechargeable Magic wand (previously created by Hitachi) is the holy grail
numerous attachments
Strong motor
Long lasting battery
Alternatives include Lelo smart wand which has a feature where it turns off when it's not incontact with skin. 8 settings, not as strong, more ergonomic handle
The Doxy is not cordless but it advertises as being the strongest wand on the market.
Toy Dicks
Dildos come in any size from small and firm to large and soft.
Why not use a tool that's perfect for that particular day?
Internal Vibrators
Can be used anally or vaginally (All toys used anally need a flared base)
Thrusting
Rotating beads
Ben wa balls
Brands we like for insertables: Vixskin, Tantus, njoy, Squarepeg, B-vibe, Colours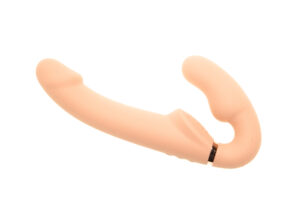 Harnesses and double ended dildos
Boxer brief or Bikini style
Great for packing
Less 'firm' and less adjustable
Traditional harnesses
Extremely Adjustable
Slightly awkward to put on
Thigh cuffs and Boot straps
Great if you have trouble thrusting using your hips
can slide around.
Harness free strap ons
Can be used anally or vaginally
We recommend using some kind of external support since most find it will slip out without support.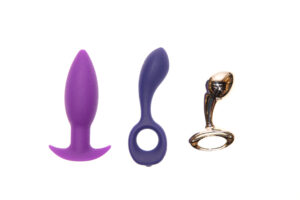 Butt stuff
Plugs
Anal hooks
Dildos
Anal beads
Anything that goes in the butt needs a ring or flared base!
Toys for external genitalia
CockRings (vibrating, pressure)
Bumpers (OhNut)
Strokers(tenga egg, fleshlight, hot octopus duo)
Cockcages
Penis pumps
Lube
Silicone – works in the bath, lasts forever
Hybrid – lube and water based blend, not too slick, not too sticky
Water based- works with all kinds of toys, no residual lingering
Oil based- not compatible with latex condoms, we recommend fractionated coconut oil which has anti-fungal, antibacterial and anti-inflammatory properties.
Flavored – Avoid glycine and other sugars for vaginal use
Ideas for how to leverage your toys
Wear a toy on the ride to or from your date.
Choose a toy that will represent 'your dick' for your partner to fuck while you're away.
Try DP with a toy or 69!
Have your partner use a toy on themselves while giving you head
Make you partner show you exactly how they use the toy on themselves…for educational reasons
Have phone sex (even if they're just in the other room)
Attach a toy to your partner (face, chest, hips) and ride it to show them what they are missing out on.
Tell them they can use their favorite toy as a reward for good behavior.
If you are into squirting a firm curved toy can often unlock this super power.
How to clean toys
Rechargeable toys: use soap and water! we like Hibiclens it's used on people for pre surgery scrub!
Solid toys: Glass, Metal and silicone: top rack of the Dishwasher or boiling.
If you don't like cleaning or are sharing toys with someone else consider buying unlubricated condoms for toys, gloves also work well for bigger toys.
---
We hope you'll use these tips to go out and have hot sex! For more (free) tips, go to